We are
Shopify Experts
Turning your website into a money making machine
What we do
User Experience (UX) Design
Transform your online store into a stunning and user-friendly shopping experience with our design service.
Development & Customisations
Leverage the power of custom coding to create unique and innovative features for your Shopify store with our expert Shopify customisation service.
Conversion Rate Optimisation
Use real-time insights about your audience's behaviours and interactions to improvement in your website's design for the ultimate user experience and maximum conversion rate to transform your website traffic into increased revenue.
"Working with Zahn on Hanako's website has been a dream. She has improved our online presence massively and with links to social media shops; I can see that sales will improve on a bigger scale than what was previously achievable."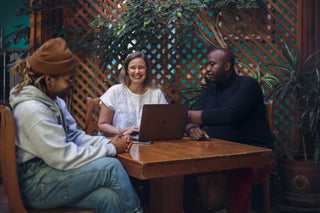 We'll check
How your store is performing
If you are an existing store owner *doing all the things* and still not getting results we can do a complimentary audit on your store to see how it's performing.
"Absolutely loved working with the team at The Indie Collab. So easy to work with, great ideas, super efficient, so friendly & helpful. I highly recommend them"
About The Indie Collab
Crafting More Than Just Websites
We're Building Your Success
We get that a website isn't just a pretty face on the internet; it's like your online superhero – working hard to bring you customers. We've got a secret sauce it's called - a data-driven approach – and it's all about making your website not just look good, but also work its magic in turning visitors into your biggest fans.
Listen to
Beyond the Cart
The podcast that goes beyond the surface of eCommerce to reveal the hidden factors that drive true business triumphs. Join us as we explore the lesser-known elements that can significantly impact your online venture's success.
"Indie Collab has been a breath of fresh air for me when I thought I was drowning. Having little to no knowledge about branding and marketing coupled with being a very "low tech" person, Indie Collab truly stepped in to provide exactly what I didn't even know I needed."
Have a project in mind? Let's collaborate!
Reach out to us today, and let's turn those clicks into customers, and customers into your biggest fans. Your digital adventure starts here!